3D modeling
Our latest service just came up at Drafter.com. We produce with the help of
SketchUp
models for small, medium or large business for viewing on
Google Earth
.
Our models are optimized for maximum download speed which helps promote the information attached to it .
Whether it is real estate project under construction, an office building, a company located on a mountain side, we allow you to present your project before or during construction or renovation.
Presentation Project of the different locations and views inside a lounge bar in California.
More details and 3D projects
Realization of a distribution counter for a laudry service.
The client had to meet strict requirements in terms of location and dimensions required by the lessor.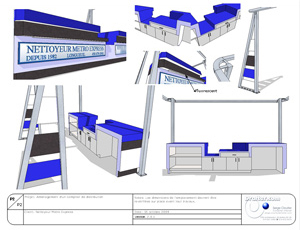 Realized for
Metro Express Cleaner
The client was in need of building a distribution counter with strick space requirement from the renter.
Planche technique produite avec Layout 2.1
Présentation animée produite avec Sketchup Pro 7
Click on our models below to view them. A variety of examples in the field of public and residential construction are present.